New York im Ausnahmezustand
Greaser punks taking over! The Turbo A.C. conquer the world!
N e w  Y o r k – Can you dig it? Die Turbo A.C.'s kommen aus New York, sind zu dritt und treten dir gewaltig in den Arsch!
Outlaw-Punk'n'Roll zwischen Misfits und Surf Guitar ist ihr Metier und darin sind sie richtig gut. 1995 kam ihre erste Platte "Supercharged straight to hell" raus und legte den Grundstein für zwei volle Alben ("Damnation Overdrive", "Winner Take All"), einige 7inches und zahlreiche Gastauftritte auf diversen Compilations. Sie standen mit Bands wie Social Distortion, Dropkick Murphy's oder Sick of it All auf der Bühne und waren in Deutschland zuletzt im Rahmen der Vans warped Tour '99 zu sehen – übrigens mit H20, Suicidal Tendencies und Ice T (will den jemand sehen?).Was wir am Turbo Action Club so lieben, er gibt einem beim hören das Gefühl, als hätte man gerade seinen ganzen Besitz angezündet und würde nun in einem Pontiac Firebird den Highway in Richtung Hölle entlang rasen. "Fuck you man, you don't understand, I'm a radioactive garbage man, you get smashed if you get in my way." Die Turbo A.C.'s erwecken nicht gerade den Eindruck, als würden sie sich gerne reinreden lassen. Gerade das macht diese Band so glaubwürdig und wenn sich einer von ihnen mit Motörhead-T-Shirt ablichten läßt, dann bestimmt nicht weil das zur Zeit gerade gut kommt. Ihre Musik im Gegensatz zu vielen anderen Punk'n'Rollern mehr als nur AC/DC auf doppelter Geschwindigkeit. Man merkt, dass sie sich statt von KISS lieber von Dick Dale haben inspirieren lassen. Aber was hat Punkrock auch mit derartigem Glitzer-Glamour zu tun? In diesem Sinne: Born to lose – live to win.
Und weil die Turbo A.C.'s so cool sind, hat das Shredder Mag keine Kosten und Mühen gescheut ein Interview mit dem Ober-TurboManiac Kevin Cole aufzustellen!
S: Social Distortion's Mike Ness made two solo-albums making clear what his roots are. Do you like his work? What are your musical roots?
KC: Well. Mike is an old friend of mine, but honestly I like the Social Distortion stuff better. If I was to do a solo album to define my roots it would probably sound like old Blitz or the Cocney Rejects.
KC: Hell yeah, more buddies of mine, (actually I never met Puffball) and yeah they rock. Except sometimes they remind me too much of other bands.
S: When you look at the music business, what do you really hate?
KC: What bothers me is how people can like stuff that really sucks, but is popular because some big company shoves it down everybody's throat. But that's not really all the music business's fault, it's the stupidity of general public. What I hate about the music biz is that it takes fucking forever to get anything done.
S: Can you live from your music or do you have additional jobs?
KC: While we're on tour we make enough, but in the rest of the time we all work. We figure we should just tour all time.
S: On "Winner Take All" you often talk about not to come into your way. Do you have a certain concept of the enemy or is to say that you will not chick out, iif there's a problem?
KC: "Get outta my way", "Comin thru", it's the way I feel, and always have. To me it's always been the message of rock'n'roll (expecially punk rock), so it's what we sing about. Going for more out of life than what everybody expects.
S: Live fast, die slow. What's your attitude of mind to getting older? do you care about someday being old?
KC: That phrase has a lot of meanings, you can make your own. I don't care about getting old, in fact, I have a feeling I'll live till I'm very old.
S: How many
tattoos
do you have. which one is the most important?
KC: How many tattoos? … Shit I don't know … a lot, but not enough. Some have more personal meaning, and some are more about the art. There is too many stories for the ones with personal meaning, enough for a whole book.
S: We are looking forward to a new Turbo A.C.'s album. How long will we have to wait?
KC: Hopefully not long, the new album is done. I think it's the best stuff we have ever recorded. This time I had my old friend
Roger Miret
from Agnostic Front come in to produce it with me. He got us in a great studio and it sounds fucking great!! I can't wait for everyone to hear it, but then again that's what I hate about the music biz. We're sitting around waiting for our managers to have meetings with lawyers to have meetings with record comanies to have meetings with … bla bla bla … ugh!!! Yep, I hate it.
S: When will we have the chance to see you live in germany?
KC: I wish I could tell you next week, but, you know, bla bla bla, bullshit music biz stuff. We planned on coming this summer, but the new album has to come out, and we have tour over here too. Tell everyone to keep in touch with us with letters or e-mail and we'll keep them posted on tour dates.
S: One wish to make the world a better place?
KC: I wish that you would give me a million wishes…
Wollt ihr noch mehr über die Turbo A.C.'s wissen, schaut doch mal die Homepage an (www.turboacs.com)
Habt ihr Fragen, schreibt an: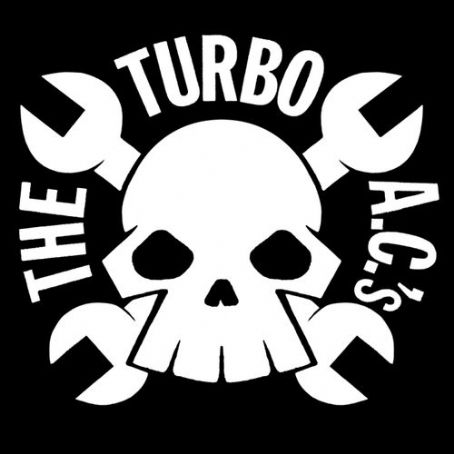 The Turbo A.C.'s
Postbox 20691 PABT
New York City, NY
10129