The Interrupters – She's Kerosene
Rancid streamen neues Album "Troublemaker" (Hellcat)
Endlich mal ein YouTube-Stream, der nicht nur stumpf mit einem Bild hinterlegt ist. Nein, nein, die Service-Punks von Rancid (Geile Band! Kennt ihr die?) haben sich richtig Mühe gemacht und alle Tracks brav hintereinander in einer rumpeligen Hinterhofgarage eingespielt. Und das alles extra nur für euch!
Musikalisch gibt es zwar keine großen Neuigkeiten, aber nachdem wir das letzte Album komplett ignoriert haben (während den Vertrags-verhandlungen mit Nestlé hatten wir wirklich besseres zu tun), gibt es mal wieder ein kleines Feature. Freut euch auf 36 Minuten klassischen Rancid-Punk, mal schneller, mal langsamer und mal mit Unterstützung von einem der Interrupters (Piano, Akkordeon). Film ab:
(P.S.: @Tim Armstrong bitte dringend mal wieder rasieren. Das sieht unmöglich aus.)
Interview with The Brokedowns
Die Brokedowns aus Elgin bei Chicago sind in Deutschland ein Geheimtipp! Ihr letztes Album "Life Is a Breeze" ist ein echter Punkrock-Knaller frisch aus der Garage, unverkrampft und extrem mitreissend. Wer hinter der Band steckt und warum die feinen Herren noch nie in Deutschland waren, erfahrt Ihr im Interview mit Gitaristen Eric Grossman…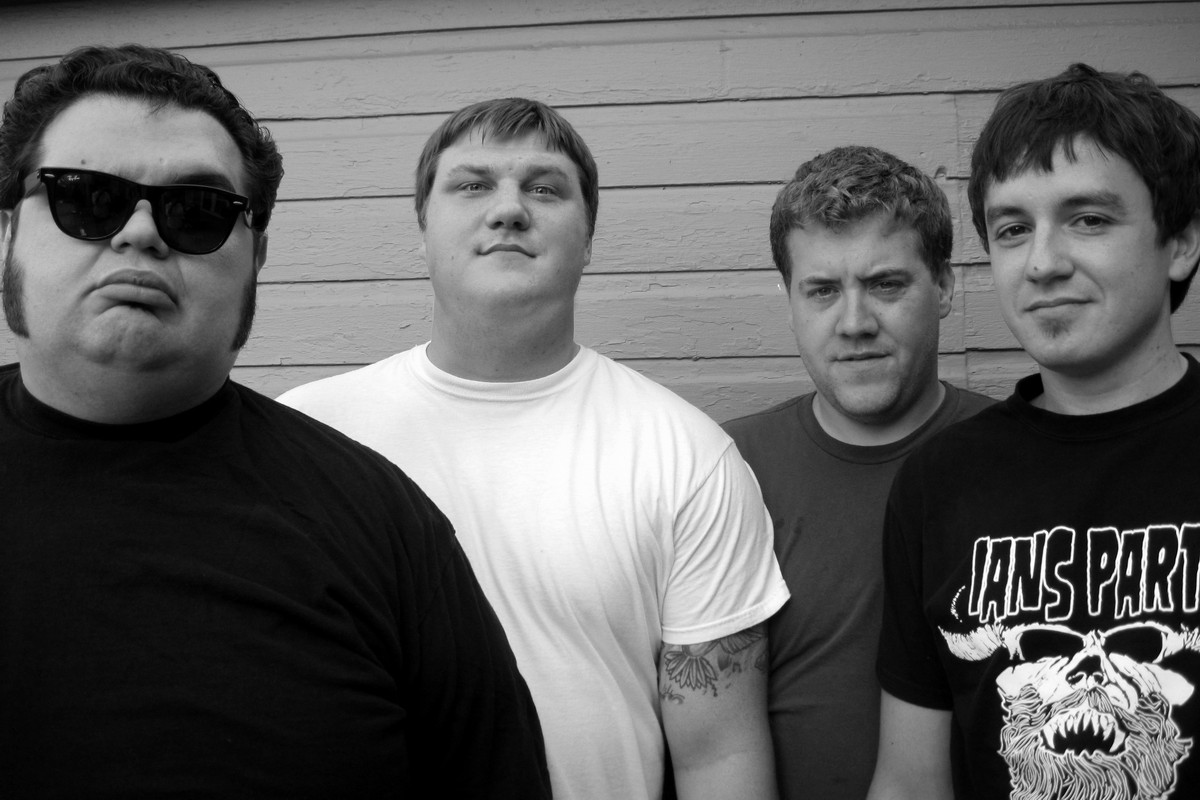 S: Can you please introduce the band?
B: That's the closest we've gotten and probably will get so no guarantees. However, I can guarantee you that it if we did, it would suck. Hard.
S: Who would be playing in your all-star punk band?
B: John Lennon and Chuck Berry on guitar, David Lee Roth singing, Neil Hennessy on drums, and John Paul Jones on bass. I think that would be a pretty bad-ass punk rock band.
S: Tell me about your local music scene. Is there any bands around that are as good as you?
S: What are your plans? Will you be touring Germany anytime soon?
Frank Carter & The Rattlesnakes
Dem Ex-Gallows–Schreihals und Ganzkörpertattoo Frank Carter ist wohl schnell langweilig. Nach zwei sehr guten Alben mit den Gallows ging es direkt weiter mit Pure Love, dem gemeinsamen (und auch sehr guten) Rock-Projekt mit Jim Carroll (The Hope Conspiracy). Parallel dazu steht er jetzt mit Frank Carter & The Rattlesnakes in den Startlöchern, der erste Eindruck macht unmissverständlich klar: die Wut und Angepisstheit aus vergangenen Gallows-Tagen ist zurück! Wie schön. Hier ein Vorgeschmack vom aktuellen Album "Blossom":

(Ist leider nur ein "Lyrics-Video", zur Version mit bunten Bildern geht's da lang.)
Und hier noch mal zur Erinnerung: die Gallows in Höchstform!
Shredder Mag -

Tanzstunde

Wer sich noch noch keine passenden Tanzmoves für's Wochenende zurecht gelegt hat, hier eine gratis Tanzstunde von den Slits:

Mehr Tipps gibt's bald hier in der lang angekündigten Doku über die durchaus stilprägenden Punkerinnen: www.slitsdoc.com.
Shredder Mag -

kramt im Archiv

Auf Grund der hohen Nachfrage hier noch einmal der Hinweis auf unser Bandquartett. Mögen die Spiele beginnen!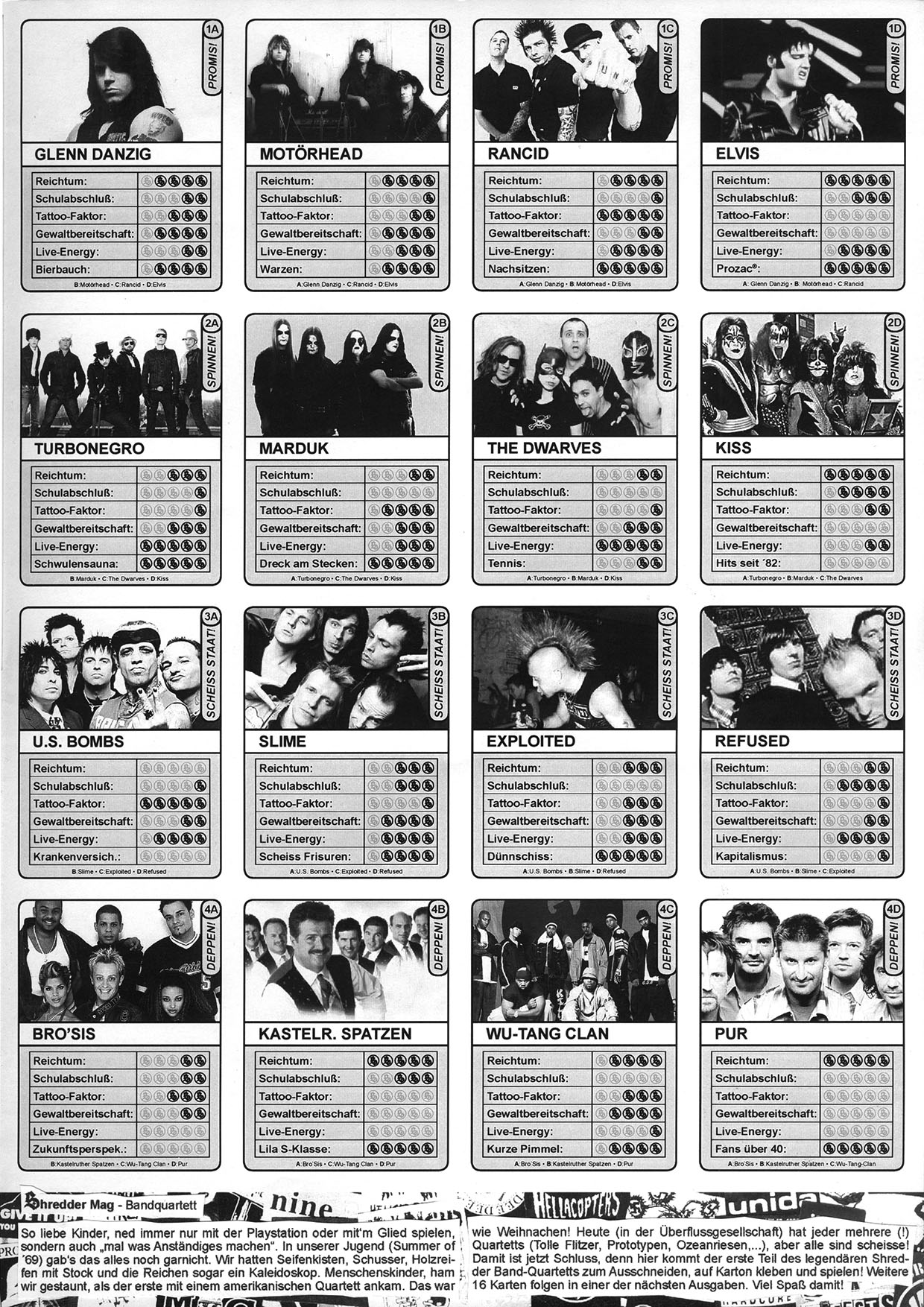 Shredder Mag -

…lästert über die Misfits!

Ehemals die legendärste Band der Welt, sind die Misfits unter der Führung von Jerry Only (der dem alten Danzig die Namensrechte weggeklagt hat) zu einer läppischen Altherren-Truppe verkommen, bei der das Einzige, was noch gruselig ist, das Doppelkinn von Dez Cadena sowie der immer grausamer durchgeführte Rip-Off des eigenen Styles ist. Wir haben uns gefragt, ab wann eigentlich alles den Bach runter ging und könnten es durch knallharte Recherche heraus finden. Nämlich genau ab hier:
Die jungen Sportsfreunde auf diesem Bild (aufgenommen 1989 im Wartezimmer von "Jennifer's Nail's" in New Jersey) sind nicht etwa ein paar Landeier auf dem Weg nach Malle, sondern die Christen-Metal Band "Kryst The Conquerer", bestehend aus (v. l. n. r.): Doyle, Jeff Scott Soto und Jerry Only! Ja, Ihr habt richtig gehört: christlicher Metal. Es gibt sogar ein Album, was allerdings (und hier hatte vielleicht doch eine höhere Macht die Finger im Spiel) nie offiziell raus kam. Ab sofort wundert uns garnichts mehr, selbst wenn Jerry irgendwann auch noch mal eine 6stündige Misfits-Konzept-Rockoper raushaut. Traurig, traurig.
Interview with The Dahmers
Mit Ihrem Debüt-Album "Demons" haben die Dahmers aus Bromölla in Schweden eine echte Garage-Punk-Granate abgeliefert. Wir wollten von Ihnen wissen, warum, wie sie nun mit dem ganzen Ruhm fertig werden und wie es jetzt weitergehen soll:
S: How did The Dahmers start and what's your mission?
D: We all knew each other to some extent before the band was formed and played in a couple of other bands at the time but ended up talking about garage punk on a party. Karlsson (guitar/song) mentioned he had a couple of recorded songs that we ended up liking so we kind of formed around them and rehearsed for the first time the day after. Our mission is to spread our rock'n'roll like a plague.
S: Is it really true that The Dahmers live in graves and only crawl the earth at nights?
D: Yes, that is correct. Or wait, what? Nah, but we avoid people as much as possible. We don't like people.
S: DEMONS is a great smashing piece of garage punkrock! How do you write new songs as a band?
D: Thank you! Our way of writing music is pretty basic. Someone has an idea or more, brings it to a rehearsal and we finish it together. We usually records demo versions of new songs as well to keep track of all the material.
S: Do you record/produce your music all by yourself or do you usually partner up?
D: We record everything ourselves, Karlsson is the recording man and does everything basically. Most of the recordings take place in the garage where we rehearse but some of it is recorded in the basement of Karlssons place, also known as Last House On The Left and Christoffer's Crypt.
S: Who does your artwork?
D: Our drummer Karl-Oskar is behind all merch designs and artwork. He is our crazy genius.
S: What's going on in the Swedish scene these days? Who are the hottest newcomers and labels to you?
S: Which two tv/movie creatures would you like to set up for an epic battle? And who would win?
D: We ended up joking about this topic for half an hour without coming up with a good answer so we would like to see Beavis vs. Butthead but instead of them fighting it would be us hanging out with them. Ash from The Evil Dead vs. the world. Ash always wins.
S: What are your plans? Will you be touring Germany anytime soon?
S: Share your wisdom: A last message to our readers?
Shredder Mag -

Was macht eigentlich?

Neulich sind wir im Internet auf die aktuelle Radioshow von Henry Rollins gestoßen:
Für NTSlive präsentiert er seine Lieblingstracks in insgesamt vier 1-2-stündigen Sessions. Wir haben kurz reingehört und mussten feststellen: es gibt hier keine Regeln, geschweige denn einen roten Faden. Der alte Haudegen spielt sich kreuz und quer durch den Gemüsegarten. Von Pop, Rock und elektronischem Irgendwas, geht es über Sphärenklängen hin zu afrikanischen Ethno-Beats. Ach ja, Walgesänge sind auch dabei. Oder was immer das auch ist. Äh ja, interessant. Das Ganze gibt es hier und in Farbe.


(Photo © NTSlive)