Interview – Eric Marcelino von den Sex Positions
Wie in der letzten Ausgabe angekündigt, haben wir den Sex Positions ein wenig nachgestellt und konnten Gitarrist Eric Marcelino zu einem nicht besonders langen Interview bewegen: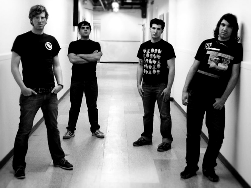 S: Where are you from and what's your musical and personal background?
Sex Positions is from Boston, Massachusetts. We are a group of kids that love to play hardcore music that pushes the boundries.
S: How would you describe your album?
E: Glamour Punk meets Wham!
S: How was working with Kurt Ballou from
Converge
as a producer?
E: Kurt is awesome, he has a bunch of tricks up his sleeve. I cant see us recording with anyone else after doing this album with him.
S: What factors in your opinion make up good hardcore music?
E: Originality, I hate hearing the same rehash. Take shit to the next level and dont waterdown music just to have a "band" and to "play shows".
S: What records inspired you most?
E: The Nerve Agents – Butterfly Collection, Ink & Dagger, any Scissor Sisters or New Order
S: What are your plans for the future concerning the Sex Positions?
E: Tour the full US, Tour Europe, put out another LP, you'll probably see us on the Top of the Pops
S: One last message to our readers, please!
E: Go out and buy the "Sex Positions" – self titled Full Length CD on Deathwish,Inc. in stores now!!!