Interview – The Accidents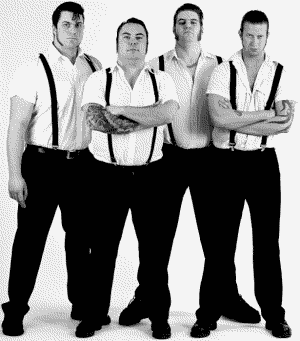 Schon wieder haben ein paar Schweden die ehrenvolle Aufgabe übernommen, den Rock'n'Roll zu retten: Auf ihrem grandiosen zweiten Album "Posion Chalice" zeigen uns die Accidents, dass das letze Wort noch lange nicht gesprochen ist! Das ganze Album ist vollgepackt mit furiosen Smashern, die ebenso einfach, wie eingängig beweisen, wieviel Spass auch im Jahr 2005 schneller Rock'n'Roll-lastiger Punk machen kann. Dank der grossen Auskunftsbereitschaft von Front-Hüne Danne Vacuum kamen wir Ihrem Geheimnis ein Stück näher…
S: Please introduce yourself! Who are you and what's your mission?
D: We are The Accidents and consist of four merry guys… Danne Vacuum (git + voc), Fred Tank (bass), Kid Kreole (git) and last but not least Mr. Rick Rebel Jennings (big drums)… Our mission is to entertain (ourselfs & others) and meanwhile try to record as good punk- / rock'n'roll-songs we possibly can… just have a good time and play the music we love!
S: Where and when did you get to know to each other and what made you found the Accidents?
D: I met R.R. in 7th grade when I noticed that someone had written "Voivod" on a locker in the hallway. So I kinda figured out who it was and we got along good cause there were not that many kids who liked them, at least not anyone I knew. Mr. Tank played in a punkband that usally played at the same shows my first band did (but always over us on the bill). One night we talked a bit and split a couple of bottles of cherrywine. We both did shit-gigs that night but we have remained the best of friends eversince. K. Kreole comes from a village and used to be a jock til' he moved here and became the happy drunk we know him as today… There was no real masterplan as The Accidents took form. We just wanted to play a bit more "rocklike" than our other bands. When we started we thought that we'd do the EP and then see, well, here we are 5 years, 2 albums and a bunch of EPs down the line and we still have a hell of a good time wich was the real reason anyways…
S: Some of you where (and still are) playing in other bands? What bands are these and did some of you quit to play in the Accidents now?
D: We only play in Accidents
all others
are defunct…
S: How important is appearance and style besides the music? Would someone tiny without sindeburns be allowed to play in the band?
D: In our case with the gipsy-uniforms and sideburns the answer would have to be no. I think it would look quite stupid with a small guy in shorts next to me, don't you agree? I don't care what people wear in the audience, but on stage we wear the uniform cause it creates a special feeling when you see it and looks more like a unit, I got the
sideburns
as soon as I could grow a beard and I'll keep them til' they fall off… But if you eat your vegatebles and get some fake ones, we might consider you…
S: There are lots of classic elements (like
Motörhead
or 50ies rock'n'roll) in your music, but it's never boring and big fun. What's the secret?
D: Thank you very much. The secret ingridient is… tatada… poison! No actually I don't know, we just take the different elements of our selfs and pour them in the machinery and out comes short fast rocksongs that we like and stranglely enough, others seem to enjoy it as well, we just play what we like ourselfs…
S: We heard you took your name a bit too serious? Tell us about shredding your tourbus!
D: We just got off the ferry in Puttgarden (Germany) from Sweden when our driver had a seizure and cramped up totally behind the wheel and sverwed through on-coming traffic and into a 2 meter deep ditch. It was very strange and he did not know what had happened when he came out of it. Everybody got away with cuts and bruises but it looked like a train had gone through the trees. Four guys had to go to the hospital to get sewn together again. We were lucky I guess, it was not our time to go…
S: So, and what was the funniest situation when touring with the band then?
D: There's been so many things that made us laugh our asses off because we always bring friends on tour so it's like a long weekend insted of a business trip. I like everything with touring cause it keeps me away from the hassles of everyday life and I don't have to work at a nomal boring piece of shit job for a few months every year , so I'm thankful for everyday I'm on the road and don't have to worry about if my forklift has enouge gas in it to unload a truck or if I have to fill it up again… It's a wonderful life, of course there are the endless hours of waiting everyday but playing live and see people walk out of clubs with a smile on their face easily weigh much more than that… Tour stories ain't good to have in print…
S: Whom have you ever been wanting to go out for some beers with and whom to beat up some day?
D: I dunno. Mabye I'd go out with Stalin and Hitler and see what they would talk about when they were drunk then beat them up and brag to my friends…
S: One last message to our readers, please!
D: Thank you very much… See you in the pit, ho, ho, ho… Merry Christmas & Rock'n'Roll is king!