Thrashmetal infiltrating your kids' brains
Shredder Mag zieht ins Parlament ein!
W a s h i n g t o n , D . C . – Gäb es nicht die jungen Herren der Band Darkest Hour, könnte man momentan wohl überhaupt nichts erfreuliches aus der Hauptstadt der Vereinigten Staaten berichten. Spätestens mit ihrem letzten bei Victory erschienen Album "So Sedated, So Secure" haben sie sich in die erste Liga der Assel-Hardcore-Metal-Bands gespielt und erfreuen das geneigte Ohr mit diesem üblen Machwerk auf's höchste. Also sahen wir uns gezwungen, die Shredder-Concorde aus der Garage zu holen und nach Washington zu fliegen, um die ganze Wahrheit aus den Jungs herauszuholen: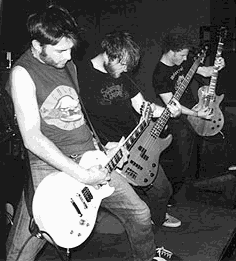 S: For all that don't know you yet: Where are you from, when did you start and what is your mission.
DH: We are from Washington DC and Richmond VA….we started like 6 years ago but the real line up didnt begin until 98 when we started touring a lot….our mission is to bring punk back to metal…trash stages and shitty clubs and just have a good time…we think its cool if kids are smiling at a metal show…also we want to write some seriouse death metal..without singing and rapping and all that shit just straight up thrash!
S: "So Sedated, So Secure" is full of heavy metal riffs. Did you all have long hair, jackets full of metal patches, strech-jeans and heard a lot of Iron Maiden back in the days?
DH: Sure we all dressed like metal heads in high school….shit i still rock the same jean jacket from back then but just cause you have long hair and all that shit dosen't mean your really metal or into thrash…..i mean we love maiden but dude I don''t know about some of Bruces outfits!
S: Some fanatic christians stole one of our articles and abused it with some kind of christian censorship for their dark goals. How would you react?
DH: Man there is just not a lot you can do except try to get them on a bunch of porn email list and take a crap in a box and fed ex it to them…I mean there is probably no resoning with their warped minds!
S: Who are the three biggest rock'n'roll-posers?
DH: * Axel Rose (doing GNR with out the other dudes…brutal!)
* every one in Metallica (except Cliff B he ruled the bass!)
* Disturbed, Korn, Staind, Limp Biskit, etc…..
S: Do you sometimes drink blood and worship satan?
DH: Only on the sabbeth the other days of the week we listen to Huey Lewis and take it easy…
S: What do you think are hottest bands around at the moment?
DH: I really like the new Entombed (morningstar) and I really think that the Crown is an awesome band…the best hardcore/metal band right now is hands down Dillinger Escape Plan….also I think Avail and Strike Anywhere are awesome……and you cant forget the band Majority Rule from DC!
S: If you had to choose: Napalm Death or Manowar?
DH: DUDE NAPALM DEATH! – they don't film videos in OHIO! and the singer is a DUDE!
S: What is the most blasphemous thing someone could do?
DH: Listen to new Metallica!