Interview – The Architects
Wer kann sich noch an die Gadjits erinnern? Bitte Hand hoch. Die haben vor ein paar Jahren eines meiner all-time-favourite Ska-Alben auf Hellcat Records veröffentlicht, um dann irgendwie unbemerkt in der Versenkung zu verschwinden. Jahre später läuft das Album "Revenge" der Architects bei mir rauf und runter. Klassischer Punkrock mit einer ordentlichen Ladung Blues in den Venen, astreine Sing-alongs und ordentlich mitreissend, ein super Album, von Anfang bis Ende gut. Das sind die Gadjits! Die selben Leute, mit neuem Namen und neuer Musik, nur der Arschtritt-Faktor ist gleich geblieben und gewaltig hoch. Die spinnen doch! Können doch nicht einfach Namen und Musikstil wechseln und ungebremst weiterrocken! Moment. Warum eigentlich nicht? Wir haben den Frontmann befragt: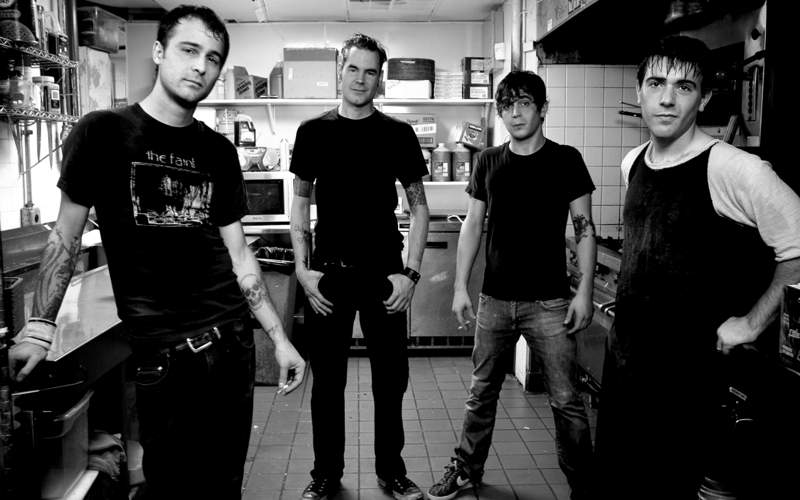 S: Please introduce yourself! What's your mission?
B: My name is Brandon Phillips…I play guitar and sing in the Architects. My mission is to inspire sub-gentlemanly behavior in the male members of the crowd and lust in the females. :) My mission is also to make a punk/rock record that even I, myself would buy.
S: Most of you played at The Gadjits. Did you get bored of playing ska?
B: Maybe a little of it was boredom…mostly it was excitement about the new things we were learning about and incorporating into the band. I don't know if the "last" gadjits album is available in Germany, but it was a straight up rock & soul record. No ska at all. Now that we are all Architects full-time, and the Gadjits are a distant memory, we have a side project where we all play nothing but old skatalites and toots covers. We still love ska, always did…just had to make a seperate band for it.
S: How's it going with the new band? Very there big changes concerning the audience?
B: Some people got mad at us about the new band…fuck them. Mostly people have been really great. We are still really wild on stage so people don't know what to think sometimes. :)
S: You recorded your great album "Revenge" very fast this happen by chance or is this part of your concept?
B: All part of the plan. We wanted the album to sound very live.
S: What do you think are your biggest influences?
B: The Who and AC/DC are huge with us…also, Stiff Little Fingers…were all still big Rancid fans and I'm sure that they have rubbed off on us a little.
S: Are you already planning to record a new album?
B: Yeah…we are writing it right now. We are a little more than halfway done with the writing. Songs are better this time around…more to sing along with.
S: One last "good advice" for our readers, please!
B: Never ever tell the cops where the drugs are.