Interview – Abhinanda
Die schwedische Band Abhinanda veröffentlichte 1998 ihr drittes Album "The Rumble". Düster und mit wahnsinniger Energie brach hier die Zukunft des Hardcore über einen herein, denn the "The Rumble" ist ein echter Meilenstein, den ihr Euch auf jeden Fall anhören müsst. Leider war seitdem fast nichts mehr von Ihnen zu hören, was wir ihnen nur ungern durchgehen lassen können. Darum haben wir mal nach dem aktuellen Stand der Dinge erkundigt.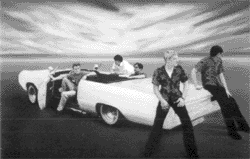 S: In 1998 you released your great album "The Rumble". But since then we heard nothing. There where rumors about your split. What was happening?
A: Well, we did a couple of tours for that record and then we decided to go on vacation from the band… and there we are now…
S: "The Rumble" sounded pretty cutting-the-edge at this time and still does. How was the resonance?
A: Good. Well of course some came with the bright comment that they didn't like it cause the record didn't sound like the senseless record… My answer as always… listen to the senseless record then. What i thought was cool is that a lot of people that don't really listens to hardcore could appreciate the rumble, and get more into hardcore because of that.
S: Please explain us the connection between Abhinanda and Refused.
A: Uuugghh… a long story… We shared some members back in the days and we got together cause Refused was the only HC band around in our town back then so that inspired us to get together and form a band too… So we where some kind of "little brother" band to them… I still remember both bands first scandinavian tour, of course we did it together and we almost died when we crashed into each other and into a mountain wall in some slippery and small norwegian mountain road…
S: Are there any news on your label Desperate Fight Records?
A: Nope… there almost no hardcore bands around anymore up here these days…
S: What are your future plans with Abhinada, any records or shows planned?
A: Well… still on vacation… the last thing we did was that spilt 7″ with unbroken where we do a Stray Cats cover and they do a Joy Division cover…